Smart, Energy Efficient, Reliable DAF Plant Design
Water Tecnik utilise a uniquely compact micro-bubble generator as part of an efficent and effective DAF plant design. The DAF plant assists in the removal of process contaminates in a safe and energy efficient manner.
The saturation pump has a highly precise and sophisticated pumping mechanism that produces microbubbles by three hydro-dynamic principles:
Negative pressure sucking both air and water simultaneously from each port; air effectively mixed into water; finally
properly producing pressurised air-enriched discharge.
The pressurised air-enriched water is transferred into the bottom of the dissolved air flotation tank. This creates a micro bubble formation spreading and growing up to the water surface and finally forming a sludge mat. It will be skimmed off.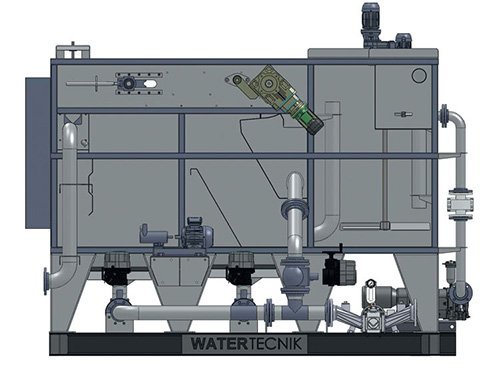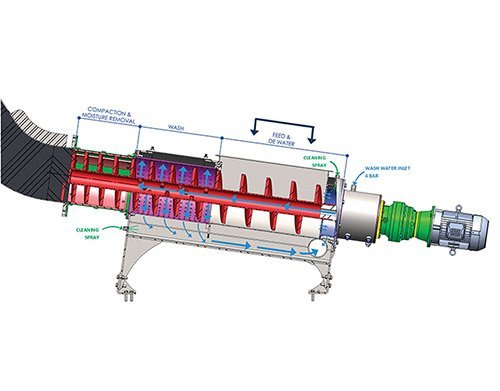 A combination of screw conveyor and screening compaction, complete with intregrated and innovative material washing system and drive assembly. Used for the compaction, dewatering. and volume reduction of screenings and a large variety of waste materials from industrial processes.
The screenings to be treated enter the machine directly through an inlet hopper. The compactor can be fed from either a launder channel or directly from source, allowing for versatility and use across various process arrangements. The innovative washing system design removes organics more efficiently, cleaning from inside to out. The SC-CP compactor is available in a range of throughput capacities, typically 6, 12, 18 and 24 m3/hr.
The fully enclosed construction assists in eliminating odour nuisance and our efficient material washing and motor drive arrangement ensures market leading energy and water consumption figures.
designed specifically with the end user in mind. The modular assembly arrangement allows for ease of maintenance and increased reliability. With two patents pending on the SC-CP compactor range.
Water clarifications for Dairies, Breweries, Fish, Meat, Live Stock Processing, Laundries, Pharmaceuticals, Membrane System Pre-Treatment, Textile Effluent, Bakeries, Snack Food Production
Fibre Recovery in Pulp & Paper Mills
Oil & Water separation – Oil Recovery
No compressor inspection certificates required
Industrial mfg. – Removing mould release agent power-press lubricant
Semiconductor mfg. – Removing metallic compounds foreign matter
Algae Biofuels – Algae Removal
Municipalities – Primary / Secondary Clarification for Drinking Water
Vehicle Washers Effluent Treatment & Recycling